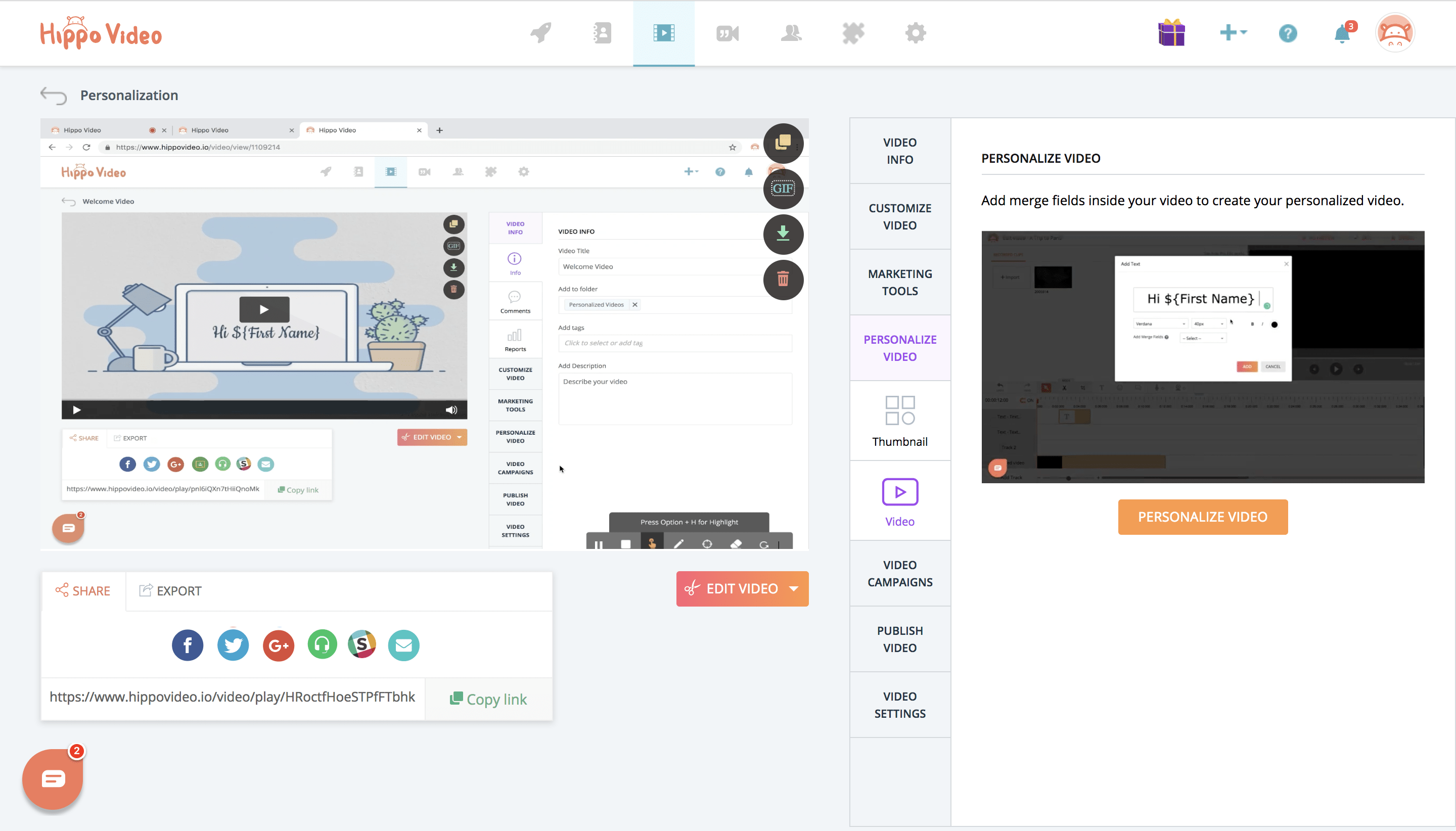 ---
Similar Tools
---
Hippo Video Features
Not that long ago it would have been acceptable to simply have a website made and engage in a little marketing and word of mouth. Not anymore, as the 21st century consumer likes to feel they are getting special treatment during their retail experience. Consumers want more than to simply be sold a product or service, and with online retail being competitive in all areas, the onus is on you to get your marketing exactly right.
This can take a lot of time and effort, and as trends change all the time you may find you begin to fall behind your competitors. For example, how do you approach video content? If, that is, you use video in your marketing routine? Many businesses have not yet woken up to the power of video as a marketing aid, but now is certainly the time to do so.
Video engages the consumer in a way that cannot be achieved with written content, and a tool such as Hippo Video can be of great help to growing businesses. Let's have a look at how Hippo Video works, and then we'll talk about some of the features.
Pros
Free plan & trial
Hippo video is great to increase conversions
Custom branding options
Cons
Integrations available in higher-tiered plans
low resolution for lower tiers
Why you should use Hippo Video?
Hippo Video is a video creation, publishing and marketing tool that allows you to make quality videos and engage with your customers. It is designed to be easy for the layman to use and can also integrate videos with email as well as being able to create videos for tutorials and much more.
Personalized video content is attractive to the consumer as it gives them the knowledge they are being treated individually while responding to customer inquiries with a video chat 'humanizes' the conversation in more ways than a text chat can do.
There are a number of functions and features included in the Hippo Video package, and we've looked at the most important ones below.
Video Selling
Sales teams can make excellent use of Hippo Video to create prospecting videos for sales. The easy-to-use platform is simple to learn and use and, with practice, the end result can be a professional-standard video that can then be shared across many platforms. Share via email, HubSpot, LinkedIn and many more social media business platforms, and you reach out to great numbers of potential leads.
What you can also do is track the interaction that your shared video creates. By following how many times the video is viewed and the customer's reaction to it, you can streamline your sales videos for greater lead generation and increased sales.
See also; Social Selling Services
Video Marketing
As an extension of the video sales function, you can personalize your marketing videos to appeal to specific groups of clients. You can add your logo, ask users to record video testimonials and feedback, invite viewers to fill in a CRM form, and more, all with simple video creation and publishing tools that just about anyone can learn to use.
Hippo Video uses the latest video uploading technology to make sure your presentations are of high quality, and they can be integrated through the platforms mentioned above plus many more. Video is an under-used medium that adds to your social proof, so is certainly worth investing in.
Online Teaching and More
There are endless possible uses for the many features that Hippo Video brings to the table, and one of the most popular is that of online education and training videos. This is fast becoming a very popular way of hosting vocational courses, training for health and safety, and company training modules, and with an easy-to-use package such as Hippo Video gets easier still.
Furthermore, respond to customer complaints and inquiries with a video call and you will get a better response, while video promotions have been shown to increase lead generation. What do we think of Hippo Video overall?
Conclusion
Video is much overlooked by many businesses, yet it is the preferred method of getting information for many users and especially those of the younger generations. It is more effective than a wall of text, for example, and can be used to demonstrate a product or service effectively. Where Hippo Video scores highly are in its ease of use, quality results, and versatile ability – we have only covered a few of the functions above and there are many more to check out.
Hippo Video comes in four pricing plans – a free basic one that we recommend you try out to see what you think, then three more ranging from a single user to a Premium option – and all are at sensible monthly rates. Hippo Video gets a thumbs up from us.