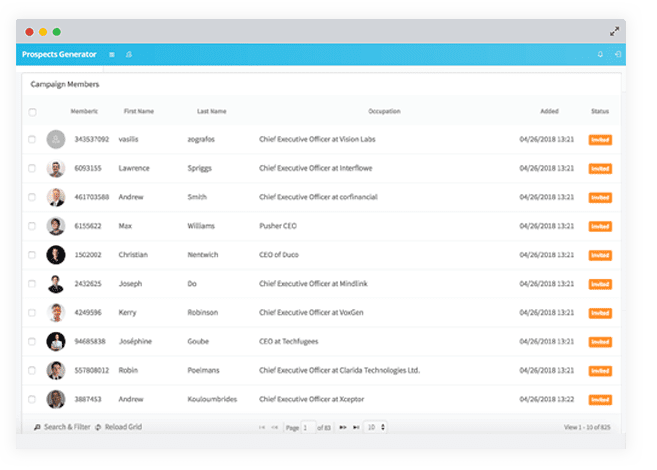 ---
Similar Tools
---
GrowthLead features
GrowthLead will help you to grow your sales pipeline by running automation on Linkedin. If you are working in a B2B company there is a 95% chance that your buying persona will be on Linkedin. If you know exactly how your buying persona is and your ICP (Ideal Customer Profile) you will have the best basis to run automation.
It takes only 5 minutes to set up, and it runs in the background while you're trying to close deals. The process is simple and easy, and it runs seamlessly to reduce the learning process for you and your sales team.
Key features of GrowthLead include:
Search and identify new prospects
Multi-segment campaigns
Unlimited personalized messages
Pros
GDPR compliant
Generate new leads quickly
Very specific targetting when using Sales Navigator
Cons
Not compliant with the Linkedin agreement
Quite pricy
Search and Identify New Prospects
Search and identify prospects on LinkedIn. You can use filters and different parameters to find highly targeted professionals in your industry. This works in the background while your sales team is closing sales, and you can set up multiple campaigns to run in the background to find leads in a variety of different niches or industries.
If you upgrade to a higher tier, you also get compatibility with Sales Navigator.
Sales Navigator empowers your campaign by allowing you to add members to your campaign and use the filters and search by URL function that's built into sales navigator. You could also import tag leads and save them directly into your campaign.
Zapier integration is also provided, allowing you to easily integrate all of your CRM tools within the GrowthLead platform. This will allow you to add new prospects seamlessly into the CRM that you are already using.
You can send message invites and create drip campaigns just like you would with any other marketing automation tool. This allows you to keep your account in good standing, and it ensures that you do not spam potential prospects.
‍Related Reading; 10 ways to generate more leads on Linkedin.
Multi-Segment Campaigns
You can create multiple different campaigns right inside of this platform. When you automate your LinkedIn outreach, you can target:
Different segments
Automate connections
It is most likely you have multiple stakeholders within an organization when you are working in a B2B organization. This also means they need a different type of messaging as they will have different goals and need a different tone of voice plus a message. With GrowthLead you can easily create multiple-segmented campaigns so you will send the right message, to the right person. Sending more personalized messages will help you to increase your conversion.
When creating campaigns, you'll find out the average results are:
40% acceptance for LinkedIn invites
5% to 15% average positive reply rate
GrowthLead makes note that every industry and profile is different. There are multiple factors that will determine whether your message gets a reply or not.
If you and your team determine that you want to send out invites, you can automate this process and allow the platform to send invites automatically. You can also automatically withdraw any invites that are older than 20 days. This is done for you so that you don't have invites pending for profiles that are not active.
Related Reading; Multi Channel Marketing Strategy
Unlimited Personalized Messages
GrowthLead knows that LinkedIn is all about personalization. If you want people to respond to you, you need to add in personalization and show interest. This can be done in a multitude of ways, but the platform does provide you with a free ebook where you have access to:
Connection templates
InMail messages
You can send unlimited messages in GrowthLead. The advanced package of the platform allows you to automatically send messages inside of LinkedIn. This does come at a higher tier price, but it will completely automate your LinkedIn prospect gathering.
If you need to nurture leads even further, you can set up mail sequences for each of your prospects. Mail sequencing allows you to contact leads using a variety of different nurturing emails to warm the lead-up and increase your chances of getting a response.
Statistics show that sending multiple emails increases your chance of having your emails read.
And if the lead does reply to one of your messages, the platform will recognize this and automatically mute any additional messages that may have been in your sequence.
GrowthLead provides the tools you need to amplify your LinkedIn marketing efforts. The platform works to automate at scale, and it can help you reach thousands of new people per month.
Analytics and reporting are also built into the platform. When you use analytics and reporting, you'll be able to view all of your key insights around your campaign, including:
Volume
Conversion
Response rates
Graphs and charts are provided that allow you to see how your campaign is doing at-a-glance. You can use all of this information to further customize your messages so that you can increase your conversion and response rates.
You can also make smarter optimization choices thanks to the information provided in your reports.
Users can find if a certain industry or niche is not converting well, and you may decide that another marketing avenue is better suited for your company than LinkedIn.
GrowthLead helps you and your team create a pipeline of prospects that will keep revenue coming in for months at a time. Through the use of automation and prospecting, you'll be able to connect with more people in less time.
GrowthLead alternatives‍