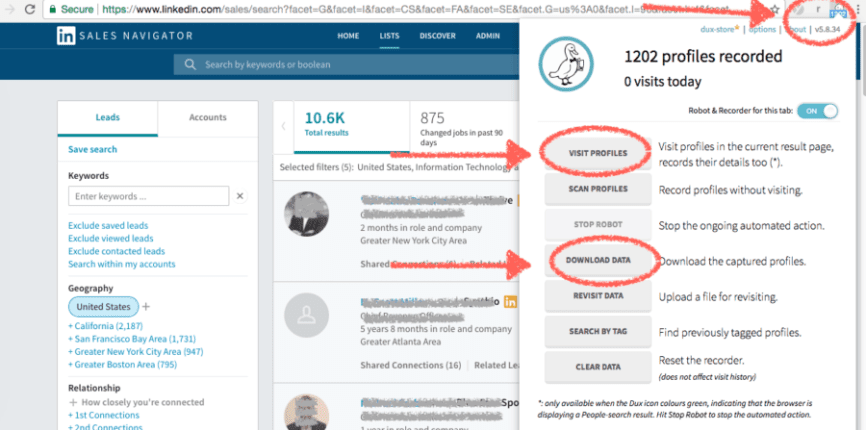 ---
Similar Tools
---
Dux-Soup Features
Dux-Soup is a LinkedIn automation and lead generation tool. It's free and easy to get started with this tool, which won the IGNITE 100 Best Marketing Software 2019 Award.
With this platform, you can sell to more customers, qualify leads more efficiently for higher conversion rates, boost your profile with more endorsements and make meaningful LinkedIn connections.
Dux-Soup has more than 50,000 users and offers a suite of tools to automate your LinkedIn activities. Three standout features include:
LinkedIn automation
Prospect management
Download profile details
Related Reading; How to Get Started with Growth Hacking.
Pros
Great way to scale your Linkedin outreach
Easy to 'set and forget' and have it working for you on the background
Friendly pricing
Cons
Potentially breaches with Linkedin's ToS
Can cause a block of your profile account
LinkedIn Automation
Dux-Soup completely automates your LinkedIn activity:
Prospect profiles
Auto visit Linkedin profiles
Endorse skills
Send customized messages
Auto-invite with personalized messages
Follow your contacts' LinkedIn activity
Set up a drip campaign to prospects
Auto follow profiles
Find emails for Linkedin profiles
With Dux-Soup, you can automatically start conversations with prospects on a large scale and send automated follow-up messages to 1st, 2nd, and 3rd connections. You also have the option of setting up longer-term drip campaigns. Automated follow-ups will ensure that your brand stays fresh in the prospect's mind and help nurture your leads.
Related Reading; 10 ways to generate more leads on Linkedin
Setup Linkedin drip campaigns
Automated drip campaigns can stop automatically whenever a prospect responds, so you communicate effectively and at the right times. When you automatically endorse the skills of prospects, they will often return the favor and boost your skills endorsements as a result.
Automating your LinkedIn activity will allow you to focus your time on the most responsive leads. Dux-Soup will take care of the rest, allowing your tools to do the work for you.
Dux-Soup operates within fair use limits, so it's safe to use.
Prospect Management
With Dux-Soup, you can easily manage your prospects from a single platform. Create searchable and actionable notes and tags for LinkedIn profiles. Dux-Soup also allows you to create lists of LinkedIn profiles that responded to your automated messages, so you can follow up manually.
Tags and notes make it easy to find and target these prospects in the future. You can also upload your own profile list for highly targeted sales campaigns.
With these tools, Dux-Soup turns LinkedIn into a lead management system. Dux-Soup can be used to find leads as well.
LinkedIn has comprehensive filters to really help you narrow down your search to exactly what you need. Dux-Soup offers to skip features to further refine your results. Skipping allows you to skip 4th-degree connections. These connections are so far from your LinkedIn network that their company name, title, domain, and location will not be available to you and Dux-Soup won't be able to extract any of this information.
Dux-Soup allows you to be really specific when figuring out who you want to target. You can skip contacts that are not:
Premium subscribers
Job seekers
OpenLink members
Influencers
Linked to your CRM (works with Salesforce only)
Showing profile photos
You can also skip profiles with certain tags to make sure that you're only contacting the right people. To make sure that you're not overdoing your auto-visits, Dux-Soup has a History Skipper option so that you can skip profiles you've already visited.
With so many search options, filters, and prospect management tools, Dux-Soup makes it easy to target the right people and increase your conversions.
Download Linkedin Profile Details
Dux-Soup allows you to upload your CRM for simple lead management and download profile details. These include:
Complete profile details with summary, skills, complete position history and education
Email addresses to help with direct marketing campaigns and targeted Facebook ads
Share notes and tags, so team members know the history and context of leads
Search tagged profiles
Attached profile notes and tag lists
With Dux-Soup Professional, you can download visited profiles to a CSV or upload a CSV with auto-visiting.
If you have Dux-Soup Turbo Edition, you can send actions and profile visits to Pipedrive, HubSpot, Salesforce, Zoho, ATS systems, Zapier, and Salesflare. You can also trigger actions and profile visits from these same platforms for easy integration with the tools you already use.
Dux-Soup is a robust LinkedIn tool that allows you to automate activities, manage your prospects and download profile information for easy access and targeting in the future. The company offers a variety of plan options for teams and individuals to meet their needs and budget.
A Starter account is free and gives you all the tools you need to get started with your LinkedIn lead management. The Professional and Turbo plans give you more options when it comes to integration and managing your leads. Available in 9 languages (English, Polish, Dutch, Italian, French, Portuguese, Russian, Spanish and German), Dux-Soup is a tool that can be used by brands all over the world.
Dux Soup Alternatives
Zopto (not listed)
Leonard (not listed)
Leadfuze (not listed)