Marketing is the process and strategy behind creating exposure and interest for a product or service. It's a complicated yet simple process which is crucial for creating growth within a company. In order for a company to succeed and thrive they must clearly define their marketing mix. It's a great way to ensure a business has a strong starting foundation and also helps to understand how a company should position itself in its target market.
‍
What is the Marketing Mix?
The traditional marketing mix consists of the 4 P's of marketing: Price, Product, Promotion and Place. They are considered the broad levels of a company's marketing mix and serve as the founding pillars on which a marketing strategy revolves around.
In recent years the traditional marketing mix has expanded further to include components of service marketing which features: Packaging, Positioning and People. All these marketing elements together are considered the 7p's of marketing.
But the 4p's serve as a great starting point to establish a company's initial marketing strategy and planning for its product and service offering. Once you have developed your core marketing strategy it's important to continually evaluate your business activities and make adjustments as your business changes.
Reading advice: How to develop a B2B Marketing Strategy
The Four P's of Marketing
#1) Product Mix
A product mix refers to the total number of products or service lines a business offers to its customer base. A company's product mix can vary depending on the range of products or services a business wants to offer. The product mix will depend on the company's branding strategy on what kind of customers they plan to target. 
Some companies will start with a limited number of products in order to see how their customers respond. If their response is positive they will tend to expand their product mix to feature other variations that will equally satisfy their customers taste and demand.
Elements and Strategies of Product Mix
Businesses who are experimenting with their product mix tend to start out with limited variations and work their way around them. Some of the most common elements that get changed for a company's product mix include:
The product design elements
Different product assortments – product lines, sizes, colors, budget range
Package and labeling
Service level post sales (coupons, memberships, etc.)
Warranties and return policies
These are considered product level strategies to acquire and retain customers at different levels. They are built-in through the product or service to ensure customers have a quality experience and remember additional components of the brand and service.
Product Mix Examples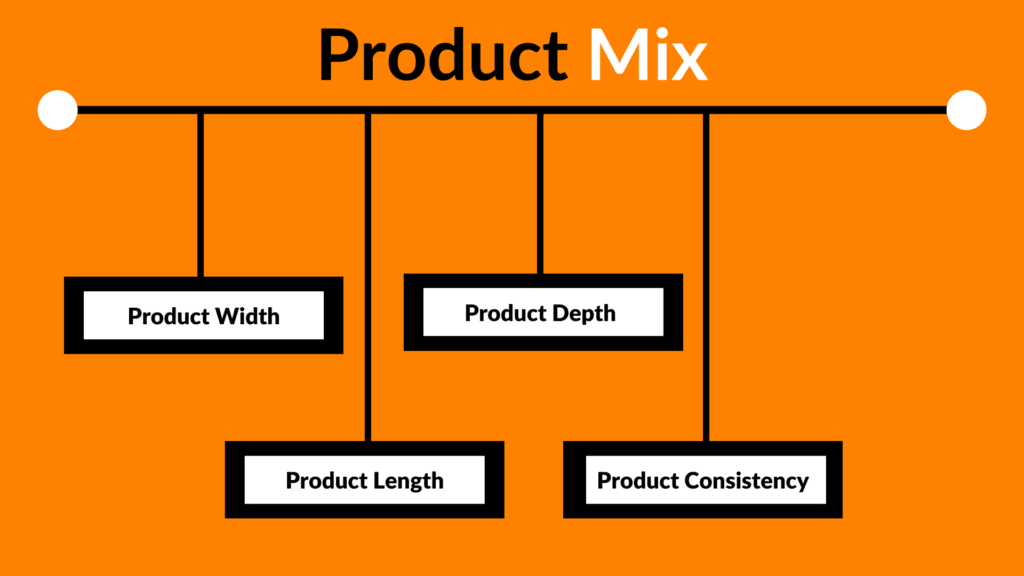 Some of the most popular product mix examples include: width, length, depth and consistency of a product or service. They are critical variations to give consumers options and different ways to engage with a product or service.
Product Width 
The width of the product mix refers to the total number of product lines or services a company has available for its customer base.
For example – if a business manufactures shirts, pants and shoes, it means its product mix is three products wide. If they decide to expand to more products they are widening out their product mix for a specific reason.
Product Length
The length of the product mix is the total number of products or services offered in the overall product mix.
For example – Craftsman has six product lines, power tools, outdoor power equipment, lawn & garden care, storage and garage, automotive tools and hand tools. In the power tools product line they may have over 50 or more different types of power tools.
This would mean that their power tools product line has a product mix length of 50. If all their other product lines have 50 different products it would mean that their total product mix length would be
300 (50 x6). The total product length is calculated by taking the total product lines multiplied by the total number of products in each line.
Product Depth
The depth of the product mix refers to the total number of variations for each type of product. These can include size, color, model and any other differential features or characteristics.
If a company sells five separate sizes and five different colors of a shoe, that particular shoe-line has a depth of 25 (5×5). If a company has many different lines of shoes with varying degrees of sizes and colors the product depth will be reported as an average.
Product Consistency
The product mix consistency is the level of degree to which your product lines related to each other. It's a way for a customer to identify with the brand as providing a product that they are familiar with. For example a person would most likely associate Nike and Adidas with sports apparel and not food. The product mix consistency of those two companies are in the sports apparel space.
Further Reading: The Importance of Product Consistency
The Product Mix and Product Line Comparison
It's important to make the distinction and comparison between a product mix and a product line. A product mix is a group of all the products a company or business offers for sale. The product line is a subcategory of the overall product mix. It's the different categories of products and services a business offers its clients.
For example, Nike has many different categories of products which include shoes, jackets, shorts, t-shirts, socks, jerseys, etc. Shoes are their own product line, shirts are their own product line and so forth. But when all of these are combined together they make up the total product line of the company.
#2) Price Mix
The price mix is an integral element of a company's marketing mix. It's the cost for a product or service for which a customer is willing to pay. The price of a product or service should be done in a way that satisfies both the buyer and the seller. It's a careful balance of pleasing not just the customer, but also the company offering products or services.
The price mix can be a very sensitive topic for consumers and businesses and should therefore be treated delicately when creating a pricing strategy. Cases in which consumers are price-sensitive and cases in which consumers have a high-perceived price value, the pricing mix has to be carefully considered when building out a marketing campaign.
Elements and Strategies of Price Mix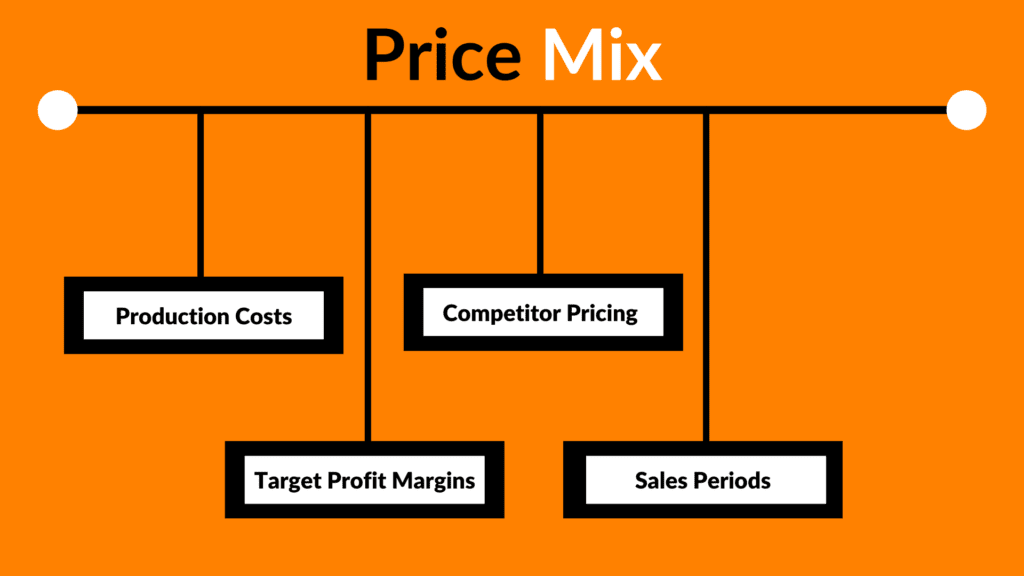 Product or service price is the variable which will have a direct impact on a company's revenue and profits. So as a business it's important to align your marketing decisions with the perceived value of your product or service. It's not an easy decision and it typically involves careful strategy, testing, analysis and implementation. Some elements and strategies of the pricing mix include:
Determining all the production, research and development costs
Analyzing competitor pricing strategy and costs
Creating comparable pricing strategies and tactics for products and services
Determining minimum and target profit margins
Discount structure for loyal customers
Payment option terms  for customers – credit, debit, cash, check
Sales periods and Level of Discounts
These are critical elements to consider before a company launches its products or services. They will help the company's expectations closely align with their marketing efforts. It's critical in order to ensure smooth revenue and appropriate marketing tactics. If the target marketing and pricing strategies do not align accordingly it can cause companies to lose money and they loyalty to their customers.
It's important for companies to create a process of continually analyzing the prices of their products and services so they accurately reflect the trending prices of the market and stay in line with competitors. During certain market conditions and times, it's appropriate to lower your prices and during other times it's appropriate to raise them.
Sometimes companies have to change certain components of their pricing mix in order to acquire new customers and ensure they retain their existing ones. This is where incentive offers and discounts come into play. They can ensure you not only remain competitive but acquire new customers which can further improve your growth.
Pricing Mix Examples
Pricing needs to support all the other elements and strategies of the marketing mix. It's a careful balance of supply and demand factors which need to align with all parts of a marketing strategy. Some common pricing mix examples include:
Discounting old models in order to make room for new ones
Volume based discounts to large customers
Selective price increases/decreases
Location based pricing ( lower prices at certain locations, higher prices at certain locations)
Competition price alignment ( adjusting prices to reflect competitor pricing)
It's worth noting that a business will have to adopt different pricing strategies based on their objectives and changes within the landscape of the market.
Further Reading: Pricing Factors and Strategies
#3) Promotion Mix
The promotional mix is the different methods used by a business to market a product or service. It should align with the methodology of the business and ensure the promotion is well-balanced for its target marketing. The primary goal of the promotional mix is to increase awareness and interest of a brand with the intent of bringing in sales for a company.
The three main objectives of a promotional mix are to:
Present information to target consumers
Increase awareness, interest and demand for a product or services
Highlight and showcase brand or product features
The promotional mix has to be carefully created in order to align the interest of people to that of the product or services a company has to offer. If they do not align, then it will directly impact the sales and growth of a company.
Pro tip: Google Analytics upgrade to G4; everything you need to know.
Elements and Strategies of Promotional Mix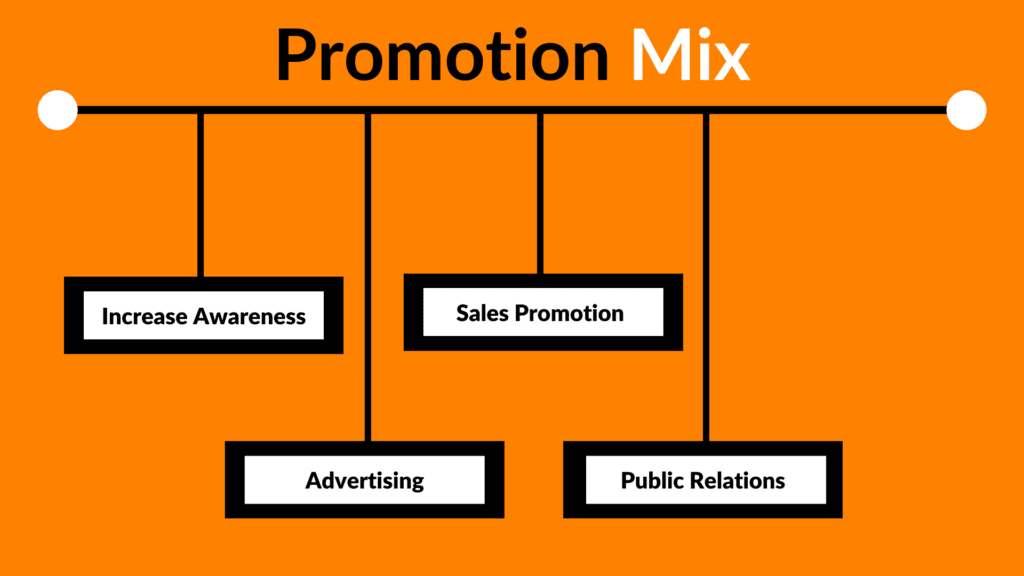 The promotional mix consists of elements and strategies in order to help a company get new customers and retain their existing customers. The three most popular strategies of the promotional mix include:
Advertising
Sales Promotion
PR (Public Relations)
Although there are countless other promotional strategies, these are considered the building blocks for establishing a promotional mix. Sometimes all three are used together in order to help maximize the overall promotion for a company or product. When used correctly the promotional mix can help bring brand identity, drive sales revenue and increase public trust. Some businesses have found out different methods for marketing automation for their online business.
Further Reading: Difference Between Advertising and Promotion
Advertising Promotion
It should come as no surprise that advertising is one of the main components of a well-balanced promotional mix. It's the paid inclusion for presentations of products, services through the use of different mediums such as social media, print ads, radio, television and countless other methods.
Advertising campaigns are critical to building, launching and growing a brand. If a company has no proper advertising methods or strategies, they have no way of growing their product, service or brand. It's imperative that the advertising aligns with a clear cut message for the market it's trying to serve.
Sales Promotion
Who doesn't love a good sale? Sales promotions are another key element to have inside a promotional mix. Sales promotions feature strategies for inducing customer to make a purchase through various tactics such as:
Lowering prices for a limited time
First people to enter or purchase getting a discount
Buy one get one free offers
Family coupons and discounts
Vouchers and referral incentives
There are many more sales promotion tactics and strategies, but these are just a few of the more popular methods used by companies to entice their customers to buy. It's worth mentioning that companies with a certain prestige or glamour actually avoid doing sales in order to keep a high-perceived value for the customer base.
Public Relations Promotion
Public relations is a promotional method for which consumers gain insight about a company through third party sources. This can include publications, review platforms, consumer opinions and even some paid sources.
Public relations can be done through reportive journalism, planting certain stories in media syndicates and much much more. It's considered an indirect method of advertising that tends to happen organically when a brand starts to make its presence in the public. 
Further Reading: The Role of Public Relations In Your Marketing Mix
#4) Place Mix
The fourth and final P inside the marketing mix is the place where your products or services will actually be sold to consumers. Some businesses such as Amazon sell completely online, while others can have a mix of brick and mortar stores along with online stores.
A business should develop a healthy habit of considering all the different places it has its products or services. Very often a change or addition in a different place can cause a company to experience an increase in revenue, and who doesn't like that. 
If you know who your target customer is going to be you should consider all the different places you can provide them your product or service. As a business if you determine that you can provide the proper customer access in a location that is cost effective and profitable, it's worth expanding your business.
Elements and Strategies of Place Mix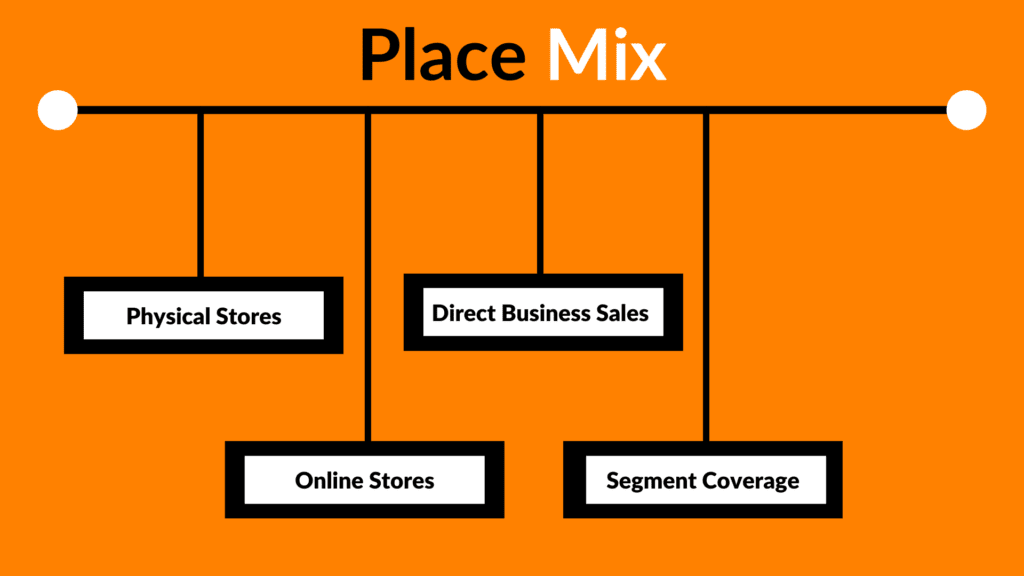 There are many different strategies and elements when considering the place mix of a business's products or services. It's very important to consider when implementing a thorough marketing plan. Some of the most common strategies for a place mix include:
Market or segment coverage
Sales Reps
Physical Stores 
Online Store
Direct business sales
Once you have carefully identified the optimal place for selling your product or services it's important to analyze competitors with a similar product or services offering. What are they doing right? What are they doing wrong? And what can you do in order to be better then them at their own game?
Further Reading: Place Inside the Marketing Mix
Examples of Place In the Marketing Mix 
Some companies such as Dell.com sell computers in both retail locations and online. The experience is completely different at each location, but the end product tends to be the same. As a company, it's important to be aware of things that customers look for when shopping online and the kind of hand-holding a customer might require at a retail location. In each state the end product is the same, but the experience and the customer is completely different. 
The two things that stay constant for the consumer are the brand and the product. As a result it's important for a business and brand to be aware of how the customer experience is on both fronts in order to ensure a high-quality experience.
The Expanded Marketing Mix: The 7Ps
Marketing has dramatically changed with the ever-evolving growth of the internet. It's no question that certain practices and fields have also evolved with it as well. The marketing mix has expanded in order to solve much of the changing factors and needs of consumers and businesses. 
There's more questions to answer, different kinds of challenges to solve and different kinds of competitors to go up against. As a result, the whole marketing mix has evolved to include additional elements: packaging, positioning and people. 
Packaging
The fifth component inside the expanded marketing mix is packaging. It's no longer just about the product, packaging is an exciting component to a product. As a business, you should take a step back and look at your product along with the way it's being presented to a customer. The packaging is another layer which ads to the aesthetic appeal of a product or service. 
It creates another impression of not only a product but the brand. It's a reflection of the level of detail a brand gives to the experience of a customer. It's no longer just about the product, it's about creating an experience for the customer. 
It's extremely surprising how small changes or improvements in packaging can affect the experience a customer has. Packaging is the way your product or service appears to consumers from the outside and it's an important layer inside the marketing mix because it's a further representation of the brand. 
Successful packaging is cost-effective for a company and also makes a product stand out from all the other options. It has the power to create a subconscious emotional connection for consumers and create a high-value experience for them.
Positioning
Companies should make the effort to analyze how your products and brand is perceived by all levels of their customers. How do consumers talk about products and services when they are being used? What kinds of discussions do consumers have with other people about the products or services? 
By creating a high-quality product and experience for your customers you can essentially create your own form of free marketing. That is the power of positioning inside the marketing mix. It can be the ultimate form of success for a company. 
Companies should be in a constant state of knowing their position in the marketplace and look for ways to stand out and connect with their customers on a deeper level.
People
The final and perhaps the most crucial component to the marketing mix is the people. Without people, there are no products or services. They are the heartbeat of your business. Companies should develop a strong habit of thinking in terms of people coming in and out of your business during the whole process from start to purchase.
Every key marketing decision should revolve around the process with the customer in mind. What are they seeing? What are they feeling? How are they responding? How do the product and service make them feel? 
If a business can consistently answer those questions they will be able to retain customers for the long term. It's important to note that it's not just about the consumer, it's also equally as important for companies to consider the state of the people who run their organizations.
A company should think about how their employees feel about the company and its practices if they hope to run an organization which grows. The personnel who represent the company and its goals should have their visions aligned together. It's not simply just about the customer. It's about the people behind the company and the values the company represents.
People are the essential glue which holds the marketing mix together. It's the professionals who make things happen and without them, there would be no customers. So it's ideal that a company put its people first in order to ensure they take care of the customers. 
Conclusion
As the field of marketing expands, so will the channels to which the marketing mix grows. It's important to know that a marketing mix can never be perfect due to the constant changes in supply and demand by consumers. In order for a company to perform to its maximum potential, it has to be aware of where all components of it's marketing mix lie and how to effectively change them in order to adapt to the changes in the marketplace. 
Reading tip; Some of the best marketing books of all time