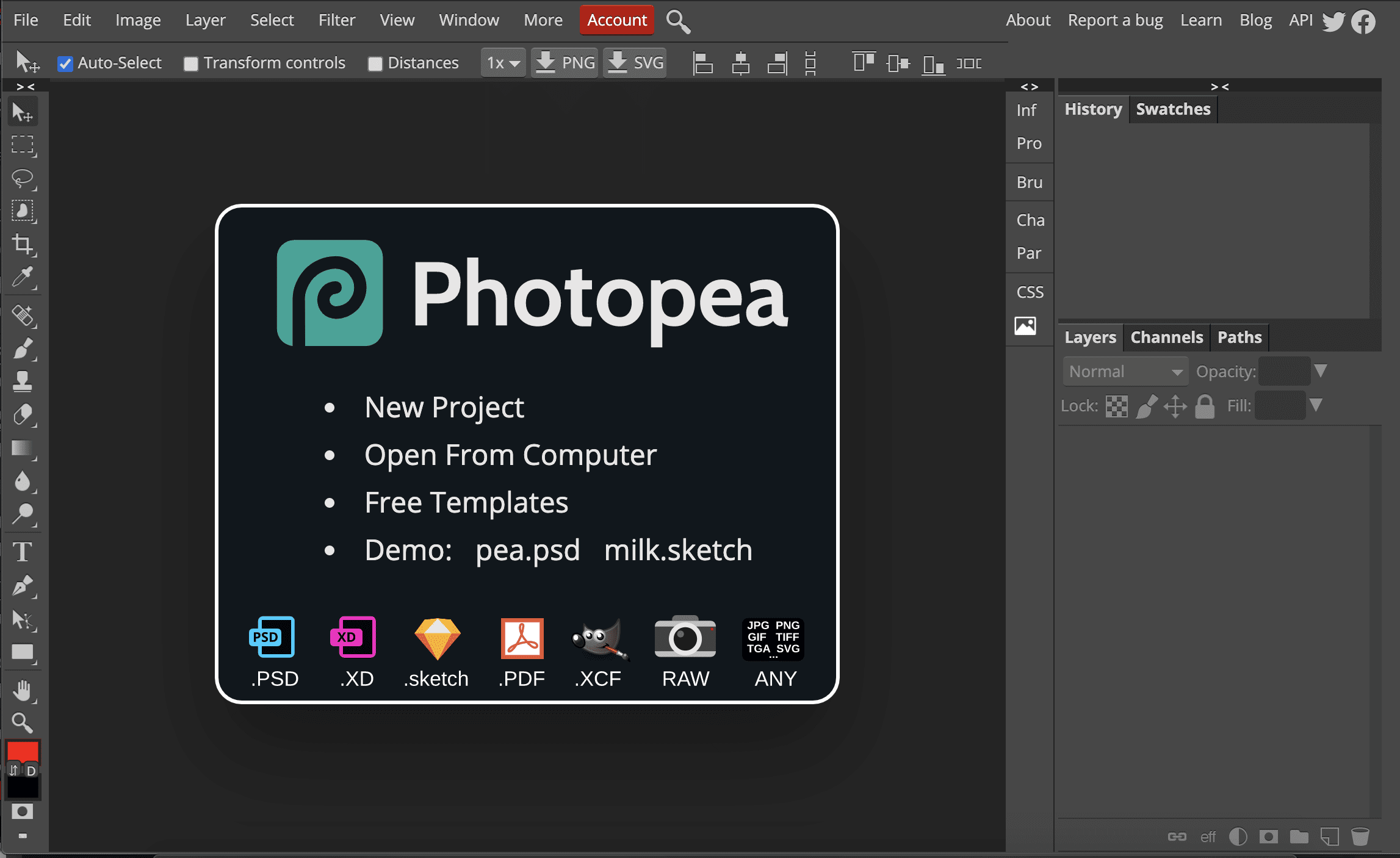 ---
Similar Tools
---
Photopea Features
Photopea is an online photo editor that aims to take the stress of processing images to the cloud. The platform is similar to Pixlr or Photoshop, but it's feature-rich and 100% online. You can use the free version of the platform, which features ads and 30 history steps, or you can opt for the ad-free, 60-step premium version.
Premium versions can be purchased in 30-, 90- and 365-day intervals.
Team options are available for 5 or 20 team members. You can easily invite members to a team or ask a team leader to add you to their team if you're collaborating together.
Key features of Photopea include:
Pros
Works with all your favourite files
Fully online editor
Comes with free version
Cons
Time-consuming UI
Ad-driven tool
Advanced Layering
Layers are the backbone of image editing and allow you to use multiple layers to create images. Since you're using layers, you can add, remove or edit one layer without impacting the image's other layers.
The layer options allow you to create new layers or layer copies.
You can also create layer folders that enable you to better organize your layers in a way that is meaningful for you. Duplicate or delete layers with ease, or fill an entire layer with:
Full layer adjustments are available as well. You can choose to change dozens of layer options, from the brightness and contrast to the layer levels and hue. With layers and adjustments, you're able to use the power of layers to bring your images to life.
Digging deeper into the layer functions and features, you're able to create:
Raster masks
Vector masks
Smart objects
You can also group layers together to make logical sense of your design and adjust all layers at the same time. There's also the option to flatten an image or to work with animated images.
The level of refinement that layers offers allows professionals to go beyond the basics with their designs.
Filters
Filters jumpstart your photo editing with preset options to rapidly change your images. If you're familiar with other photo editing tools or apps, you'll find many of the great filters they offer are built into the Photopea product.
Photopea has a lot of filters that include:
3D
Blur
Distortion
Noise
Pixelate
Render
Sharpen
Stylize
Other
There's also a filter gallery available. With the addition of filters, you can create or edit images in Photopea at rapid speed. Lens correct options are available, and Photopea does include a variety of selection tools that you can use to select portions of your image.
Photopea is a product that works wonders as a low-budget editor that can compete with the likes of Photoshop – at a much cheaper price.
When you go through the filter options, you'll find a last filter option that enables you to apply the last filter used to other layers, groups or selections. You can always go back through your history to undo an action with 30 to 60 actions kept in your history depending on your account type.
File Type Compatibility
You can create images from scratch with new projects or open up an existing image. If you want to create images quickly, free templates are available that allow for anyone to get started with image creation.
Demos are available that show you how to use this tool, and you can use multiple different files types.
All of the most common files types are provided, including but not limited to:
.PSD
.XD
.sketch
.PDF
.XCF
RAW
Photopea has the ability to move your intensive photo editing process from the desktop to the cloud. When you're done editing a photo and want to move to the next phase, you have multiple options available:
Publish the picture online via the platform, with options to publish on Imgur or Photopea directly.
Save the file as a PSD to open it on other photo editing tools or to be able to import that editable file back into Photopea in the future.
Export the file into one of many different file formats, including PNG, JPG, GIF and numerous others.
You can also take and edit a picture right through the tool if you plan on posting the picture on social media or your own website. Multiple options are available, including exporting layers right through the online editor.
Photopea is a robust, online photo editor that enables anyone to leverage the editing power of a full, robust photo editor online. You can work together in teams to create creatives for your next marketing project or work alone to create your social media content or business icons, images, logos and more.