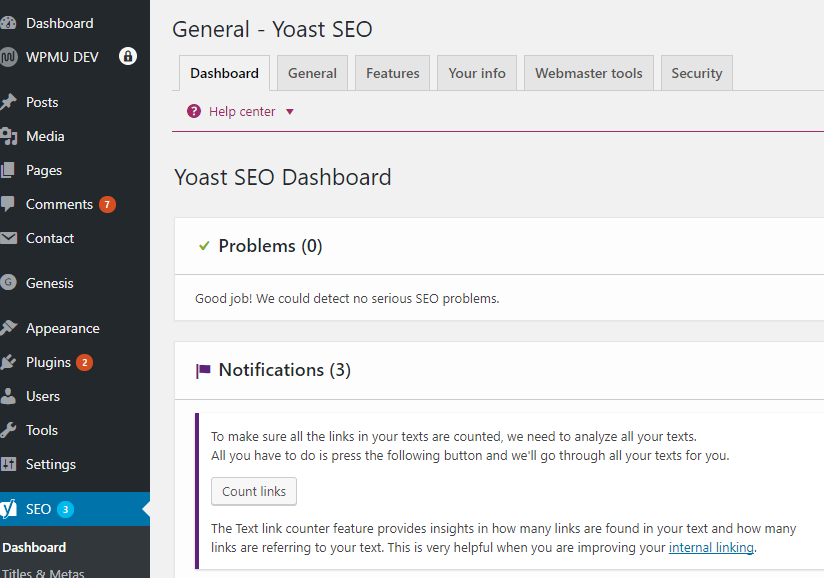 ---
Similar Tools
---
Yoast SEO Features
Yoast SEO is the world's most popular SEO plugin, and businesses across the world rely on the company for their on-page SEO. If you want to get more search engine traffic, attract more visitors and boost your engagement, Yoast SEO is a go-to option.
A free and premium version of the plugin is available.
If you choose to upgrade to the premium version, you'll gain more advanced features and will receive free updates for one year. With this plugin, the goal is to eliminate the need of hiring an on-site search engine optimization expert.
Keyword optimization
Content insights
Page and site
Pros
Free version available
Works directly in your chrome browser
Great insights to grow your website
Cons
Some features are missing if we compare it with Rankmath
Keyword Optimization
Keyword optimization is one of the most common reasons people download Yoast. When you're using the free version, you can input one keyword and optimize all of your text-based on the keyword you input.
When doing this, the plugin will check for your keyword:
Placement
Density
Frequency
The premium version of the plugin allows you to go a step further and analyze all of the keyword variations or phrases inside of your text. When you do this, you will be able to see which keywords you can add or change to better optimize your website.
The premium version Allows you to add in more related keywords so that you can reach a broader audience and increase your search engine optimization and rankings.
Your plugin will also show you a score that allows you to better understand how well your current page or post is optimized based around the keyword you enter. If you do not follow the best practices, you will gain insight into where you should be placing your keyword.
For example, if you do not have the keyword in your title or in a header, the plugin will alert you to this so that you can follow the best practices in the industry. Small, incremental changes can mean the difference between ranking highly in the search results or ranking so far that nobody will ever see your site.
Content Insights
Your content has a lot to do with your search engine rankings. If you create good content, it can improve your chances of ranking highly on Google. What's great about this plugin is that it makes it's easy to see all of your content insights in one central location.
The content insights portion of the plugin is only available for premium users, but it is one of the most powerful features to have at your disposal.
This feature will allow you to view a list of the word combinations or words that appear most often on your page
Of course, you're also able to preview your page to learn how it will look in Google and on your social media accounts. You'll be able to see what your post would look like on Facebook or Twitter. You'll be able to view if the image matches and lines up appropriately and if the title fits within your post perimeters.
Page and Site
Yoast is filled with great features that really don't fit into one category. These features help you better understand how your page and site perform. You'll also gain a lot of control with these features.
The features that are available that we have yet to talk about, include:
Readability check that checks the ease of reading for each page. This will also judge how people scan the pages they're on and increase the chances of people actually reading your page.
Complete control over your website's breadcrumbs. This will allow people to have an easier means of navigating back to other pages on your website and categories.
Duplicate content checker that allows you to see which pages on your website may have duplicate content that will impact your search engine rankings. You will be able to add a conical link in here to fix these issues.
Edit some of the technical stuff in the background, such as URLs that need cleaning up, sitemaps that need to be generated or updated, and your robot or .htaccess files.
Redirect managers that ensure users don't get stuck on an error page. These managers will allow you to make quick and easy redirects without having to go into complicated regex files.
Export the keywords that you find on your website so that you can use them in other programs. This will work for multiple focus keywords that you may have.
Get suggestions on internal links that you should be incorporating into your content. The program will automatically analyze your text and suggest links to related posts that your users may find interesting or engaging.
Yoast is filled with great features and has a lot of support available to help you leverage this powerful plugin with greater ease.
Yoast Alternatives: