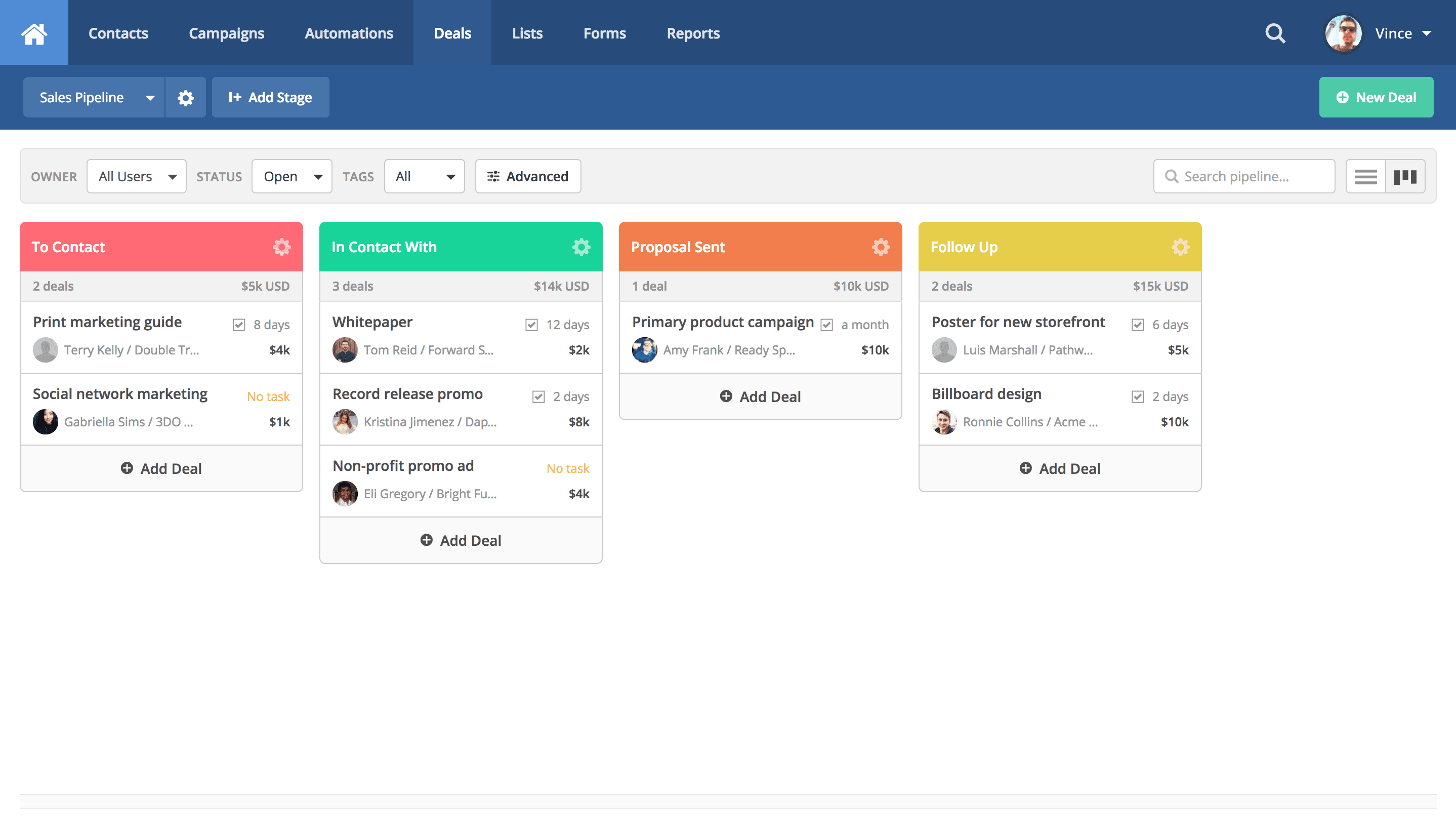 ---
Similar Tools
---
ActiveCampaign Features‍
Digital marketing is an essential part of any modern business's marketing campaign, but to get it right requires a lot of thought and effort. The 21st-century consumer is looking for more than just a product or service, as they are used to social media, providing them with information and a journey to enjoy.
ActiveCampaign is a tool which is prefect for small-to-mid-sized businesses which offers different services like; CRM software, Sales plus marketing automation. It is one of many marketing automation packages that are designed to make life easier for marketers and help agencies automate marketing campaigns and is highly rated by many users who appreciate its versatile nature (see here why you should start with Marketing Automation)
Using many of the tools that most CRM solutions offer, including the use of tailored emails and streamlined, personalized communication, ActiveCampaign is easy to use and simple to set up, and also provides access to a variety of functions that can be customized for each user. All together it is an intelligent platform that makes it easy for every business to start with sales and marketing automation. With limited skills you are able to create sophisticated automated marketing processes that will save you time and start generating additional revenue for your company. Using the integrated CRM software you are able to automate your sales processes as well.
How ActiveCampaign Works
ActiveCampaign offers access to many different features via a simple to use dashboard and is big on email automation and creating a customer journey that will engage the consumer and engender brand loyalty. Designed to save time in getting the right message to the consumer – and at the right time – ActiveCampaign is a popular choice of CRM in a range of different market areas.
The ActiveCampaign package is sensibly priced in what is a competitive market, and its unique features combined with those you expect from a marketing automation package make it an attractive choice. Here are some of the features that come with ActiveCampaign.
Pros
Great reviews and ratings on all review sites
Great pricing, a lot less expensive as other tools
Ease of use, (almost) everyone can use it
Cons
CRM isn't as extensive as some others
Pricing based on numbers of contacts, can become expensive
No landingspage option (check Unbounce)
Email Marketing
Email remains one of the essential methods of communication in online marketing. ActiveCampaign allows you to send not only mass emails – when you need to get a simple message across to many consumers – but also tailored messages for more personalized content. You can also send emails triggered on a purchase or even just a visit, and automate welcome emails and more. It's simple and reduces the time spent on email considerably. To give you an idea; you are able to send out different kind of emails:
Broadcast emails
Triggered emails
Targeted emails
Email auto responders
Email funnels
Scheduled emails
Marketing Automation
ActiveCampaign goes beyond email when it comes to marketing automation, offering you an at-a-glance view of all your marketing traffic. Furthermore, you can set up marketing funnels to catch consumers at the point they are likely to buy, and use the simple drag and drop automation builder to customize your workflows as required. This is a powerful and highly effective part of the ActiveCampaign solution. What can you do with the marketing automation feature:
Site tracking
Event tracking
Automation goals
Automation map
Attribution
Split actions
Sales and CRM
Lead prioritization is an essential part of daily life in any business providing services or selling products, but when performed manually, it is time-consuming and inefficient. With ActiveCampaign, you can automate the sales side of the business by using custom-designed forms that direct an enquiry the right way and help find the best possible leads to generate business accordingly. There is also a central platform for viewing contacts details and level of engagement, which does away with the need to search through different forms of contact for information. This is another time-saving feature that is highly effective.
Messaging
Messaging is the very core of many a marketing routine, and with ActiveCampaign the range of messaging and communication options available is comprehensive. In addition to email, ActiveCampaign also offers the use of direct SMS messaging, which is highly effective for targeting consumers on the move, plus social media messaging via Facebook ads. There is also a useful online chat option which enables you to capture and talk to consumers while they are visiting your site. The latter is a valuable tool that will be much appreciated.
Machine Learning
With data available about your visitor's behaviour, the ActiveCampaign package allows for machine learning so that you get better success. It does so by analyzing the most likely leads and providing that information to the user, and by looking at what can be improved and how. This intelligent aspect to ActiveCampaign is one of the most impressive features and may be the one that makes this package your choice.
Conclusion
The above are some of the features you gain access to when you use ActiveCampaign, but not all. The simple integration of messaging, email and customer information couple with the customizable elements make this a useful tool, so what do we think overall. ActiveCampaign is a good marketing automation tool with many impressive and useful features in a market that presents plenty of worthwhile competition. Easy to use and offering excellent communication ability as well as the clever machine learning feature, it is worthy of consideration if you are looking for an automation tool for your business and has many satisfied users.
ActiveCampaign