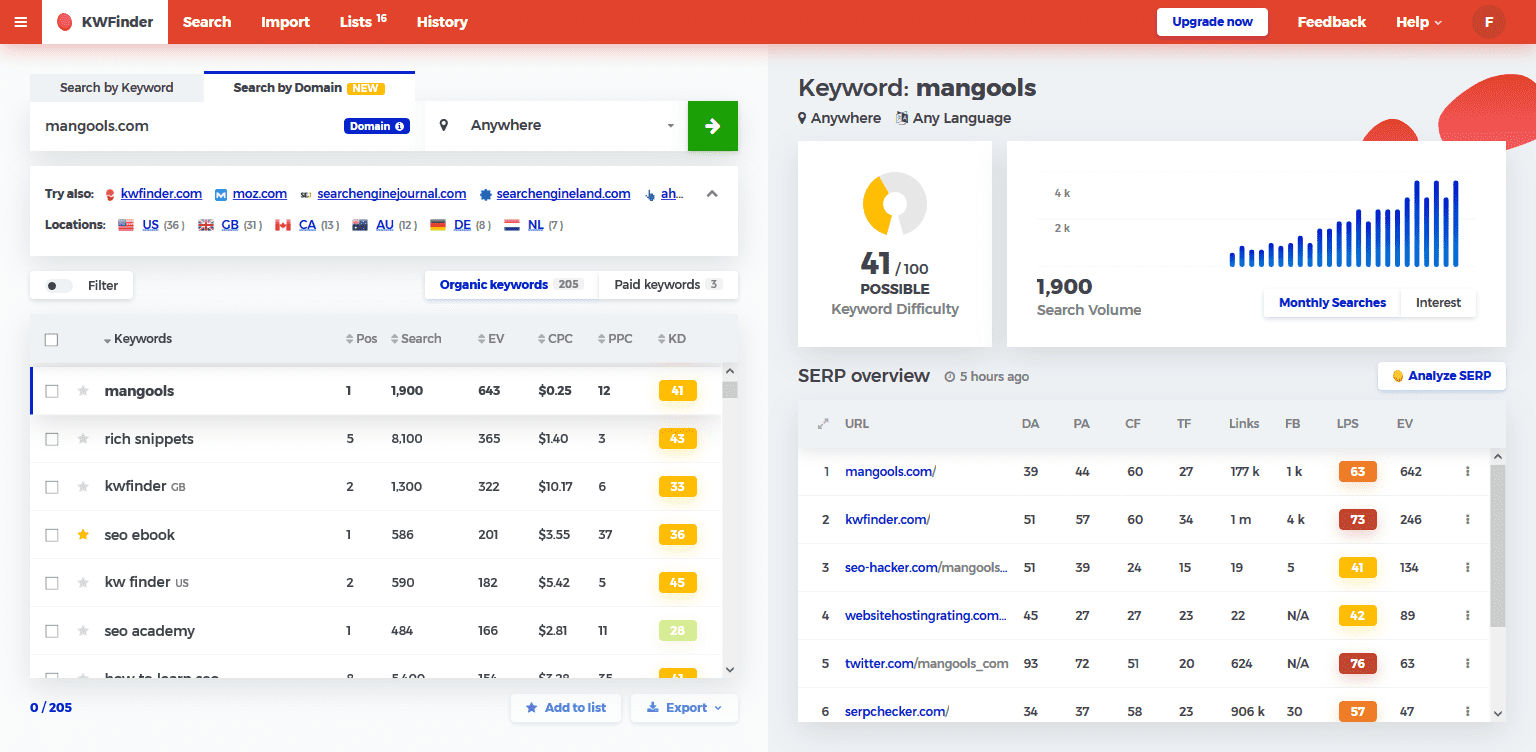 ---
Similar Tools
---
KWFinder Features
KWFinder is a keyword research and analysis tool from Mongools. The platform makes it easy to find keywords that are easy to rank for and weed out those that are too difficult to rank for. KWFinder is trusted by adidas, Alexa, Deloitte, Skyscanner, RetailMeNot and Airbnb.
While this tool has many features, three of the most important include:
Pros
Insights to rank #1 in Google
Competitor SEO insights
Local SEO keyword research
Diverse search engine optimization metrics
Cons
No free plan
It doesn't support multi-tabbed keyword research
You can't customize the SERPChecker preview
Keyword Difficulty and Search Volume
KWFinder's keyword difficulty tool will tell you how difficult it is to rank for a keyword with extreme precision. Find out what it takes to rank #1 in the SERPs. The lower the difficulty, the easier it will be to rank for that keyword.
To measure difficulty KWFinder will analyze the Link Profile Strength, or LPS, of every URL on the first page of the search results. LPS is determined by each page's link profile, Majestic and Moz metrics.
Specifically, the tool uses the following to measure LPS:
Page Authority
Domain Authority
Trust Flow
Citation Flow
Keyword difficulty is measured on a scale of 0-100. The lower the number, the easier it will be to rank.
A low score doesn't necessarily guarantee a top ranking. Where your site will rank will depend on your SEO skills. However, the difficulty tool will help you find the best keywords to go after when optimizing.
KWFinder's keyword difficulty tool is one of the most accurate in the industry. The goal is to give you an accurate estimate of how hard it will be to rank number one in the SERP when optimizing for your seed keyword.
Along with keyword difficulty, KWFinder can also provide search volume metrics for hundreds of keywords. This data provides you with a wealth of information:
Find seasonal or trending keywords to target at just the right times of year.
Use historical search volume and Google Trends data to find new keyword opportunities.
Find close variant keywords and view their search volumes, such as plural vs. singular, regional language variations, different spellings, various punctuation options, or abbreviated vs. full-length terms.
KWFinder provides exact search volumes – not ranges – so you always have the most accurate data.
Competitor Research
With KWFinder, you can perform competitor research to see if there are keywords that you're missing and what you're up against.
Competitor keyword research is an important part of the SEO process, and KWFinder makes it as easy as possible. You don't even need to enter a keyword. All you have to do is enter the domain of one of your competitors, and KWFinder will gather the top ranking keywords for you.
If you want to target a specific location, you can choose different countries from the dropdown menu.
With KWFinder's competitor research tool, you can view:
The top keywords competitors rank for
Exact search volumes, CPC, PPC and historical search trends data
SERP analysis
Keyword difficulty analysis
Estimated traffic per month based on the search volume and organic position
The highest organic search position for each keyword
Top paid keywords the domain targets with Google Ads
Once you have compiled a list of keywords that you want to optimize for, you can save them all to a keyword list and then start spying on other competitors.
If you want to expand on your competitor research, you can use the SiteProfiler tool to analyze a variety of metrics, including:
Backlinks
Top content
Website traffic
Popularity metrics
You can also find keywords of competitors in the SERP table. KWFinder gives you a lot of options when it comes to competitor keyword research and optimization.
Local Keyword Research
Local SEO can help you drive more local customers to your website and ultimately, through your front door. Finding the right keywords to target can be difficult. KWFinder can help streamline the process by helping you quickly and easily find local keywords in more than 50,000 locations.
Types of locations KWFinder can search for include:
Cities
States
Regions, DMA regions
Countries
Counties, departments
The tool can also help you find long tail keywords specific to your location, so you can find more relevant keywords to target.
If your website targets users that speak multiple languages, you can choose from more than 40 languages to identify the unique search volumes for each one in your desired location.
Using the local keyword research tool, you can find the right search terms to sprinkle into your content for SEO optimization.
KWFinder offers a 10-day free trial that gives you five lookups per 24 hours and the ability to research 25 related and 10 competitor keywords per lookup during the 10-day trial period.