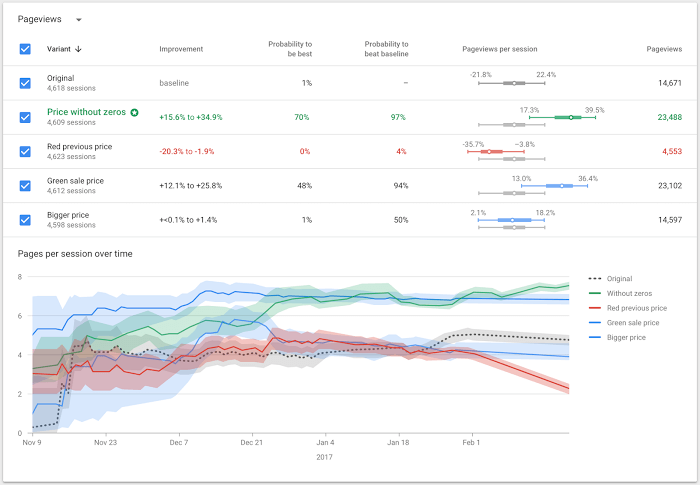 ---
Similar Tools
---
Optimize Features
Optimize is a product from Google Marketing Platform that aims to help you optimize your website. You can use the platform and its many tools to make continual improvements to your site. One company was able to make user experience improvements that doubled their monthly sales.
The tool is designed to be integrated deeply into other Google products that you may be using, including Google Analytics. You're able to connect the two tools to identify areas where you can improve your site as well as create experiments against your business goals.
Two main solutions are available: Optimize and Optimize 360. The optimized version is free, and offers an extensive suite of features that include:
Pros
Quick to optimize your website for FREE
Part of the Google Marketing PlatformVisual Drag and Drop Editor
Cons
Lacks in-depth on-page analysis
Experience Types
Experience types are where all of your site testing occurs. Optimize offers several different experience types that you'll be able to put to work to optimize your website. The main experience types that you will be using include:
A/B testing
A/B/n testing
Multivariate testing
Split URL testing
Server-side experiments
Simultaneous experiments
Personalization
When you split tests your web pages, you'll be able to see which pages are performing better than others. You can use different variations to test against two landing pages or to test a complete page redesign to see how users interact and accept the new design.
Some of the tools are only available on the enterprise version, and this would include the multivariate testing and the additional simultaneous experiments.
The personalization type is one of the most important because it allows you to deliver personalized experiences directly to your customers. This means that you'll be able to launch your site from an experiment or launch a custom experience for users.
When you're able to optimize based off of these different types, you'll be increasing your user experience to allow for the easiest, best performing website not only for you, but for your users as well.
Reading advice; how to gain more insights from your website visitors
Visual Editor
Coding a website is an intensive process, and a lot of website owners don't know how to create many of the elements by hand. The visual editor will allow you to create a new variant of any page on your site without needing to recode the site in the process.
There is an easy editor that allows for drag and drop functionality and the ability to create multiple variations of web pages with a single click.
A visual editor diagnostics system will also be available that will look through your coding and try to detect any problems before you make the page live. This will ensure that your users do not suffer from poor coding issues that can degrade the user experience.
When using the visual editor, you'll be able to switch between different devices and screen sizes to ensure that the new pages that you create look good on all devices, including smartphones, tablets and personal computers.
If you are accustomed to coding in HTML, JavaScript or CSS, there are raw HTML options available to you. This will allow you to add in your own sophisticated coding to your pages.
Reporting
Bayesian's statistical methods are used in Optimize's reporting feature. The statistical methods that are used allow for real world performance of your experiments and higher accuracy in your results.
The reporting is one of the most advanced in the industry, allowing you to enjoy:
Experiment summary that allows you to make smarter decisions for your entire business.
Improvement overview is where you're able to compare the different changes you've made today and from in past. This feature will include different variants, such as your increase or decrease in sales, clicks or page views.
Objective details can also be added into the platform so that you can see how the changes you made performed compared to your objectives. You'll be able to see if the pages perform better before your changes, or if you're able to hit your goals thanks to the changes that you made.
Optimized reports that are available in the Google Analytics program so that you can better understand the impact of the changes you made on your website. You can see information on different experiments that you conduct for users, the return of high value customers and other in-depth information.
Optimize also includes experiment controls, with scheduling options, activity logs, user permissions and the ability to preview an experiment.
You can further refine your objectives using different objective types and integrate the experiments that you use into other Google products, including Google Analytics, Ads, BigQuery, Firebase and Accelerated Mobile Pages (AMP).