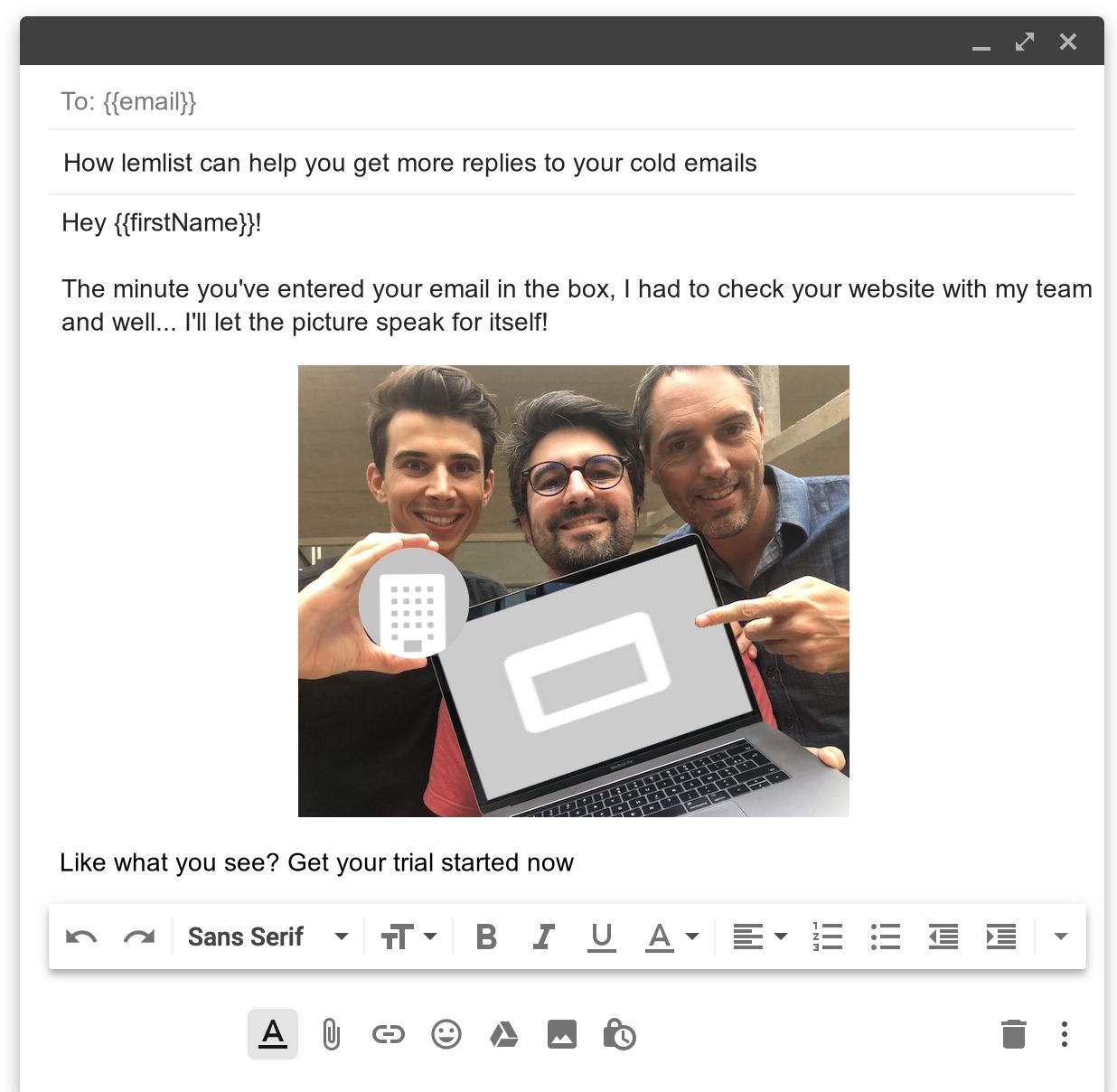 ---
Similar Tools
---
Lemlist product description
Lemlist is a powerful tool that sales teams and agencies can use to begin sending cold emails that actually get replies. The platform is used by over 8,000 clients, including some of the biggest names in the world: Uber, Zendesk and Sumo.
You can try this platform for free, or choose from three different tiers of service. The Gold and Platinum tiers offer advanced functionality, such as personalized images, API integration, A/B testing, calendar and chat, dynamic landing pages and video integration.
The key features found in Lemlist are:
Email deliverability
Email automation
Automated follow-up
Pros
Advanced cold email personalization
Auto email warm up
Maximize email deliverability
Cons
No free plan
Integrations not available in lower package
A/B testing not available in lower package
Grow your business with personalised email outreach. Lemlist is a cold email tool that helps agencies, sales teams and B2B businesses personalize and automate outreach campaigns. There are three unique features that lemlist provides you with.
Number one is the ability to insert & overlay custom screenshots, images or logos onto images within your emails. That way, you're adding a much-needed personal touch without sacrificing the ability to send emails at scale.
Number two is auto email address warm-up. By leveraging this feature, you will significantly boost your email deliverability without breaking a sweat.
Finally, you're able to launch all kinds of sequences and put them on autopilot, without losing their personalization at scale feature. With Lemlist you are able to send personalized pictures and video's withing your email. This will make your emails highly personalized and increase your conversion.
Email Deliverability
When you have a new domain your domain authority will not be that high. Lemlist will send emails on your behalf to other users to 'warm up your email account. This way before you start sending your cold emails you won't end up in the spam box. Lear more about email deliverability here.
When you start an email marketing campaign, deliverability is one of the most important aspects to follow. Lemlist Includes a powerful email delivery tool that is filled with features to help your emails be seen.
One of the most powerful features is called Lemwarm.
Lemwarm
You can turn this feature on and set the number of emails that you want to send to the lead and ramp it up incrementally per day. You'll be able to follow all of your progress for these emails with reports. Graphs are included, showing how well received your emails were.
You'll be able to see where your emails landed, whether it be in:
Inbox
Categories, or
Spam
Tracking and Scheduling
You can track and schedule all of your emails so that you can ensure that they're sent across different time zones at the appropriate time. With custom tracking, you're able to eliminate the need for link and open tracking, which can impact your deliverability.
Custom tracking domains improve your chance of tracking emails so that you know exactly what's happening during your marketing campaign.
This feature will require you to create a CNAME entry in your DNS, so it can be a little tricky to get set up.
A few of the additional features offered in this tool include:
Email health, which will show you how to reduce your bounce rate and protect your domain reputation.
Test emails to see where your emails are ending up.
Receive information on how to improve your sender score so that your emails don't end up in spam.
Email Automation
Automation is going to be the cornerstone of many new companies hacking their way to growth. The email automation tool allows you to:
Find prospects using LinkedIn and narrow down your search using filters
Gather contact information directly from your LinkedIn leads
Send automated sequences to these leads that are highly personalized and get replies
Email automation also allows you to send personalized notes to potential leads. When you find them on LinkedIn, you can send these notes as a sort of welcome message and to warm up your lead before emailing them. You can do all of this without lifting a finger using automation.
Send these leads cold emails using sequences. You can transfer all their information to your Lemlist and then create a sequence that goes through multiple emails until you receive a reply. This allows you to warm up your lead further and increases your chances of converting the potential lead.
Lemlist also allows you to connect your favorite CRM so that you can get notifications and further information on each prospect.
Automated Follow-up
Automation goes even further with the automated follow-up tool. When you use the automated follow-up tool, you can create sequences that allow you to run your campaign on autopilot. You can send unique follow-up emails and change your sequences or remove emails at any time.
This tool allows you to schedule follow-up emails, and you'll also receive instant notifications when a prospect replies or performs a certain action based on your triggers.
You can also:
Save your best follow-up email templates and use them in the future
Set up delays between emails or stop emails when a prospect clicks or replies to your email
Lemlist also includes a robust set of personalization features, including:
Insert custom images, logos or screenshots into your email
Create dynamic landing pages that allow you to schedule meetings in just a few clicks
Use liquid and spin syntax to create different lines for different audiences using specific filters or random variations
Manually review emails before they're sent to add even more customization to potentially highly converting leads
When using Lemlist, you will also be able to integrate into the many tools that your team is already using. This platform can integrate seamlessly into the following tools:
Salesforce
HubSpot
Pipe Drive
Zapier
Slack
Google Drive
More
Lemlist is a powerful, robust tool that makes growth hacking an integral part of your business.