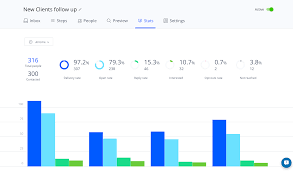 ---
Similar Tools
---
Reply.io Features
Reply is a sales engagement platform that offers email search automation and other automation tools to streamline your outreach and engagement. Sort, categorize, reply and manage your contacts automatically to save your sales team time.
Reply has a 14-day free trial (no credit card required). Team and individual subscriptions are available.
The platform won the Premium Usability 2019 award and was named a Top 50 Product for Sales in 2019. While Reply offers an array of robust features, there are three in particular that make this platform stand out:
Contact Management
Email Automation
AI-Backed, Smart Features
Pros
Scale your outreach with the same sales people
Increase open rates on cold emails
Lots of integrations
Cons
For EU: Read the GDPR page first before starting
Could be a bit hard to start with
It can use some design updates
Contact Management
Reply makes it easy to manage your prospective leads. Group prospective leads based on a wide range of criteria, import your contacts from a CSV file, or enter your contact data manually.
Smart filters and contact list segmentation allow you to group and categorize your prospects. Reply also allows you to view sequence and profile history, recent activity with contacts and email conversations.
Contact management tools help you keep your campaigns organized and focus all of your efforts on the most promising prospects.
Email Automation
Reply automates your outreach by sending cold emails automatically based on your campaign's settings. Every message can be customized based on your preferences, and you can send follow-up messages automatically so that you never miss an opportunity to convert a customer.
Once your emails are sent, you can see what happens to them, monitor your campaign's performance, carry out testing and even measure your results.
Reply's algorithm, which is powered by machine learning, will automatically sort your replies into appropriate folders:
Interested: These are hot leads who are interested in further communication.
Not interested: These are contacts that are not interested in your message. With Reply, you can ignore these prospects, or launch a re-nurturing campaign to bring them back around.
Not now: These prospects are potentially interested, but now is not the right time. These prospects can be engaged with at a later time when they are ready to move forward.
Do not contact: These are prospects who do not want to receive any more emails from your brand. They automatically receive the "opt out" status.
No reply: These are prospects who haven't responded to your emails. You can send them to a different campaign, or you may want to use a new tactic to trigger their interest.
Forwarded: These prospects forwarded your initial email to someone.
Replies are categorized based on the matter of response. These categories help you focus on the right prospects, so you can close more deals and avoid wasting time and resources on prospects that won't convert. Reply's AI algorithm can categorize emails with 90% accuracy by analyzing the intent and context of the email.
With Reply, you can also create your own custom folders for even more targeted categorization. You can also sync with your CRM, making it easier to manage prospect information and conversations.
Reply's email automation can save you up to 10 hours a week. That's 10 additional hours you can spend on making calls and closing deals.
Pro tip: See our blog on how you can convert clients via Cold Emails.
AI-Backed. Smart Features
Reply's AI-backed, smart features help you engage with prospects more quickly and more effectively using:
Inbox categorization
Suggested calls for prospects that are more likely to convert
Email suggestions and quality check
Recommended actions based on prospect activity
Why spend time carrying out these tasks manually when Reply's AI-backed, automated system can do it for you?
Through the power of AI and machine learning, Reply can recommend actions to take to engage and potentially convert leads. The AI is configured with 10 million emails, which the platform uses to ensure suggestions are accurate.
The quality check function helps you draft actionable emails that are more likely to be opened and get a response. Reply will check your email text in real-time and use 5 parameters that are known to affect open and reply rates:
Subject Length: Keep it short and sweet – 3-7 words maximum.
Word count: Shorter is better (125 words or less).
Question count: Add at least two questions to trigger a reply.
Positivity: A positive tone will keep prospects engaged.
Reading level: Emails should be easy to read. A third-grade reading level is best.
Reply scores your emails and helps you craft better ones to increase conversions.
Conclusion
With Reply, brands can automate their email campaigns and responses, freeing up time for sales teams to focus on the most promising prospects. All of these tools are available as part of Reply's subscription, which is available for individuals, teams and enterprises.
Reply.io Alternatives